Ten fun facts about Tempe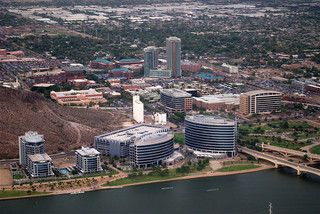 Fact 1
It was also known as Hayden's Ferry during the territorial times of Arizona.

Fact 2
The city is named after the Vale of Tempe in Greece.

Fact 3
Tempe is the location of US Airways Group's corporate headquarters, and the home of Arizona State University.

Fact 4
Tempe houses several great performance venues including Gammage Auditorium and the Tempe Center for the Arts.

Fact 5
On New Year's Eve, the city hosts the Tostitos Fiesta Bowl Block Party, one of the nation's largest New Year's Eve parties.

Fact 6
Tempe is the spring training host city of the Los Angeles Angels of Anaheim.

Fact 7
Tempe Public Library serves Tempe. The children's library is now 18,816 square feet large.

Fact 8
Tempe enjoyed a thriving alternative music scene throughout the 1980s and 90s, producing such acts as the Gin Blossoms, Meat Puppets, Dead Hot Workshop, The Refreshments, Roger Clyne and the Peacemakers, Hans Olson, and The Maine (band).

Fact 9
Tempe is home to many outdoor activities. Tempe Town Lake offers fishing, boating, kayaking, rowing, dragon boating and standup paddle boarding; Papago and South Mountain Parks offer hiking, mountain and road biking, rock climbing, frisbee golf, and equestrian activities.

Fact 10
Tempe has been voted "Best Overall Sister City Program" in 1998, 2004 and 2008.



More interesting reads about...
Click here for more u.s. city facts ❯
RELATED FACTS
---
MORE IN U.S. CITIES
---