Ten fun facts about Phoenix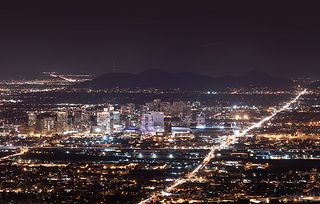 Fact 1
Phoenix is the sixth most populated city in the country and the most populated capital in the United States.

Fact 2
One of the largest capital cities by land in the United States, Phoenix stretches over five hundred square miles.

Fact 3
The average temperature of Phoenix is more than 100 degrees Fahrenheit during the summer, earning it the nickname "The Valley of the Sun."

Fact 4
Jack Swillings was one of Phoenix's founders. He started Swillings Irrigation Canal Company and diverted water from the Salt River to make the dry soil of Phoenix fertile. Swillings would become the first postmaster of the city as well.
Fact 5
Phoenix's city hall is one of the tallest, standing twenty stories high and housing more than 1,300 employees.
Fact 6
Darrell Duppa, a university educated pioneer, supposedly gave Phoenix its name after finding the ruins of a native culture and believing another would rise from its ashes.
Fact 7
Although Phoenix is 75 miles from the nearest lake, it's home state of Arizona had a navy. Consisting of only two vessels at its peak, the navy was to stave off invasion by California.
Fact 8
The Phoenix Art Museum has its home in Phoenix, which houses an impressive collection of more than eighteen thousand artworks and also features circulating international exhibitions.
Fact 9
Phoenix does not observe daylight saving time, as decided by Arizona Governor Jack Williams in 1973.
Fact 10
A major business center in the west, Phoenix is the home to the headquarters of seven Fortune 500 companies.
More interesting reads about...
Click here for more u.s. city facts ❯
RELATED FACTS
---
MORE IN U.S. CITIES
---