Ten fun facts about Indianapolis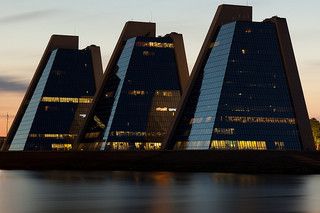 Fact 1
Indianapolis replaced Corydon as the Indiana state capital in 1825. In the United States of America, it is the capital city located nearest the center of its state.

Fact 2
Indianapolis is the only major city in the United States not located on a river.

Fact 3
Indianapolis was planned by Alexander Ralston, who apprenticed under Pierre L'Enfant, the French architect who designed Washington D.C.

Fact 4
Indianapolis had no buildings taller than 284 feet until 1962 because of an ordinance disallowing structures taller than the city's Soldiers' and Sailors' Monument. Now the city is home to the Chase Tower, among the tallest buildings in the United States.

Fact 5
Indianapolis is home to the Indianapolis Motor Speedway and the Indianapolis 500 race. The Speedway is the largest sports facility in the world, able to accommodate over 600,000 spectators.

Fact 6
Indianapolis' Crown Hill Cemetery is the third largest in the United States of America.

Fact 7
Indianapolis' Indiana Convention Center is used to host Gen Con, the most attended role-playing game convention in America, attracting over 40,000 attendees.

Fact 8
Indianapolis is the headquarters for numerous charitable and fraternal organizations, including Kiwanis International, and 26 major sororities and fraternities.

Fact 9
Indianapolis' Eagle Creek Park is among the largest urban parks in the United States.

Fact 10
Indianapolis is home to The Children's Museum of Indianapolis, the largest such museum in the world. The building is nearly 500,000 square feet in size, and features over 100,000 exhibits and artifacts.



More interesting reads about...
Click here for more u.s. city facts ❯
RELATED FACTS
---
MORE IN U.S. CITIES
---