Ten fun facts about Anaheim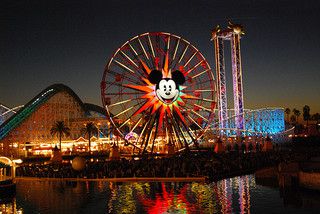 Fact 1
Anaheim is located in the far southwest side of the state of California. It is the oldest city in the Orange County, California.

Fact 2
The city was founded by wine makers and grape farmers. After grape crops failed oranges became the largest crop of the city.

Fact 3
Anaheim literally translates to home by the river. It got its name 'Ana' because of its proximity to the Santa Ana River. "heim' is a German word for 'home'.

Fact 4
Prior to the opening of Disneyland in 1955, the city was one large rural community.
Fact 5
In 1924 KKK members were hired to reform the politics of Anaheim.
Fact 6
There are a lot of different historic homes that you can drive by and some that you can visit in Anaheim.
Fact 7
Many different historic buildings in Anaheim from the 1950s are still intact and some have not changed offering a step back in time when one visits them.
Fact 8
Gwen Stefani, the lead singer, songwriter and front-woman of No Doubt is from Anaheim.
Fact 9
In 1924 Anaheim hosted their very first Halloween parade and till today it continues to hold one of the largest parades in the US.
Fact 10
The city is home to the largest and most impressive convention centers on the West Coast.
More interesting reads about...
Click here for more u.s. city facts ❯
RELATED FACTS
---
MORE IN U.S. CITIES
---