Ten fun facts about Quito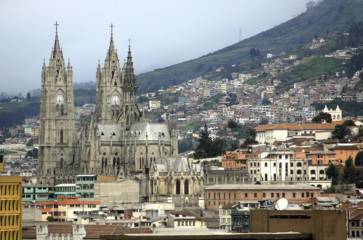 Fact 1
Quito is home to one of the largest, least-altered and best preserved historic centers in the Americas.

Fact 2
It is the second highest official capital in the world, standing at 9,350 feet above sea level.

Fact 3
Because of the city's Spanish and Incan origins, its formal name is San Fransisco de Quito.

Fact 4
Quito's first metro line began construction in 2012 and is expected to be operational in 2016. It was given a $205 million loan by the World Bank.

Fact 5
Although Quito is close to the equator, its elevation allows it to have a fairly cool climate with afternoon temperature of approximately 65.7 degrees.

Fact 6
'Secuestro express' crimes are on the rise in Quito; this is when a passenger enters a taxi and the taxi is then intercepted by an armed accomplice of the driver. They are robbed, beaten and even raped.

Fact 7
There are three active volcanoes within 100 kilometers of Quito. They primarily threaten the city with ash fall.

Fact 8
The Hotel Plaza Grande, a five-star luxury hotel, is located inside a restored Spanish colonial mansion, which formerly belonged to one of the earliest colonial inhabitants of Quito.

Fact 9
The Basilica of the National Vow, a Roman Catholic church located in Quito, is the largest neo-Gothic basilica in the Americas.

Fact 10
More commonly a tourist attraction, Quito's rail system is used for transport, running through the Andes Mountains between cliffs, canyons and rivers.



More interesting reads about...
Click here for more capital facts ❯
RELATED FACTS
---
MORE IN CAPITALS
---