Ten fun facts about Albuquerque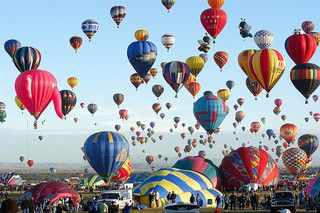 Fact 1
The city was founded in 1706 and is one of the oldest inland cities in the United States.

Fact 2
Albuquerque is located at an elevation of 5312 feet which makes it the highest city in the US.

Fact 3
Tourists come from all over the nation to see "Old Town" which is the original part of the city that was founded in 1706.

Fact 4
The international hot air balloon competitions are held in this city each year and at least four hundred balloons from around the world take part in the competition.

Fact 5
The Rio Grande River runs right through the middle of the city from north to south,

Fact 6
The Sandia mountains, which run along the eastern side of the city are a very prominent geographical feature of Albuquerque.

Fact 7
A prehistoric man that was more than 10,000 years old was found at a site near the city.

Fact 8
Albuquerque is known as the "City of Lights" during Christmas time because of the traditional white luminaries that are seen lit up in all homes in the city.

Fact 9
The city is home to more than four hundred and twenty churches, which is more than any other city in the US.

Fact 10
The 2012 hit movie, The Avengers, was filmed in Albuquerque and so was the popular AMC television series Breaking Bad.



More interesting reads about...
Click here for more u.s. city facts ❯
RELATED FACTS
---
MORE IN U.S. CITIES
---