Ten fun facts about Laredo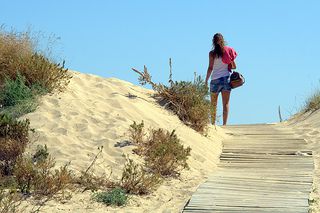 Fact 1
Founded in 1755, Laredo grew from a villa to the capital of the brief Republic of the Rio Grande to the largest inland port on the United States-Mexican Border.

Fact 2
Laredo is also known as "The Gateway City" & "The City Under Seven Flags".

Fact 3
Laredo's economy is based on international trade with Mexico.

Fact 4
Laredo has the distinction of flying seven flags (the Flag of the Republic of the Rio Grande in addition to the Six Flags of Texas).
Fact 5
The biggest festival, Washington's Birthday Celebration is held all month long during February, attracting hundreds of thousands of tourists.
Fact 6
Laredo is one of the oldest border crossing points along the U.S.-Mexico border, and the nation's largest inland port of entry.
Fact 7
The origin of name of the original Spanish town of Laredo is unclear. Some scholars say the name stems from Glaretum which means "sandy, rocky place". Others state that Laredo stems from a Basque word meaning "beautiful pastures". Laredo might also stem from the latin Larida which means gull.
Fact 8
The 2011 series, Bordertown: Laredo, is a 10-episode documentary on the Arts and Entertainment Network based on the work of the narcotics unit of the Laredo Police Department.
Fact 9
Laredo is a city that has been the subject of many songs in popular culture. One of the most popular songs being the Streets of Laredo, originally known as A Cowboy's Lament and written by Frank H. Maynard, who lived mostly in Colorado. The Streets of Laredo has been recorded by artists such as Johnny Cash, Marty Robbins, Waylon Jennings and Roy Rogers, and even featured in a Charlie's Angels episode.
Fact 10
Another popular song is Laredo by country music star Chris Cagle. In the song, Cagle sings about the city of Laredo having a positive influence on his significant other. He relies on this influence to prevent his significant other from leaving town and encouraging her to return to him.
More interesting reads about...
Click here for more u.s. city facts ❯
RELATED FACTS
---
MORE IN U.S. CITIES
---
Short about Laredo
is the county seat of Webb County, Texas, United States, located on the north bank of the Rio Grande in South Texas, across from Nuevo Laredo, Tamaulipas, Mexico.

Languages
Deutsch
Français
Español
English