Ten fun facts about Port of Spain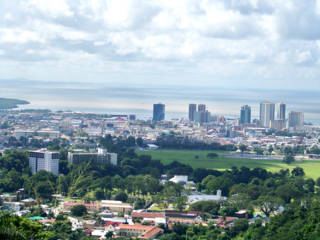 Fact 1
Port of Spain is the third-largest municipality in the country.

Fact 2
Along with maxi-taxis for private transportation, water taxis are a popular way four tourists to get around.

Fact 3
Crime rate in Port of Spain fluctuates; in 2008 it had a high of 550, 354 in 2011 and then up to 407 in 2013.

Fact 4
The National Museum and Art Gallery of Trinidad and Tobago, originally named the Royal Victoria Institute, was first built as part of preparation for Queen Victoria's jubilee. It is the country's most important museum.

Fact 5
The tallest building in Trinidad and Tobago is located in Port of Spain called the Eric Williams Plaza.

Fact 6
Two Nobel Prize winners are from Port of Spain including Derek Walcott and Vidiadhar Naipaul.

Fact 7
In 1867, Michel Maxwell Philip became the Mayor of Port of Spain, a position that was previously only held by whites.

Fact 8
The largest open space in Port of Spain as well as the world's largest traffic roundabout, is the Queen's Park Savannah.

Fact 9
Because many of the houses are 'gingerbread house' style, there is even a bed&breakfast called 'The Gingerbread House'.

Fact 10
One of the oldest Botanic Gardens in the world is located in Port of Spain called the Royal Botanic Gardens.



More interesting reads about...
Click here for more capital facts ❯
RELATED FACTS
---
MORE IN CAPITALS
---