Ten fun facts about Paterson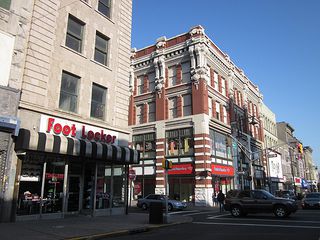 Fact 1
It is known as the "Silk City" for its dominant role in silk production during the latter half of the 19th century.

Fact 2
Paterson was named for William Paterson, statesman, signer of the Constitution and Governor of New Jersey who signed the 1792 charter that established the Town of Paterson.

Fact 3
The city was a mecca for immigrant laborers who worked in its factories.

Fact 4
Paterson, at one point, became the cradle of the industrial revolution in America.
Fact 5
During World War II Paterson played an important part in the aircraft engine industry.
Fact 6
The Great Falls Historic District is the most famous neighborhood in Paterson, because of the landmark Great Falls of the Passaic River.
Fact 7
Downtown Paterson is home to Paterson City Hall and the Passaic County Courthouse Annex, two of the city's architectural landmarks.
Fact 8
The former Orpheum Theatre located on Van Houten street, has been converted to a Mosque by The Islamic Foundation of New Jersey. The massive structure now known as Masjid Jalalabad, can accommodate 1,500 worshippers.
Fact 9
Since its early beginnings, Paterson has been a melting pot. Irish, Germans, Dutch, and Jews settled in the City in the 19th century. Italian and Eastern European immigrants soon followed. As early as 1890, many Syrian and Lebanese immigrants also arrived in Paterson. Paterson's black community consists of African Americans of Southern heritage and more recent Caribbean and African immigrants.
Fact 10
Paterson is the subject of William Carlos Williams' five-book epic poem Paterson, a cornerstone work of modern American poetry.
More interesting reads about...
Click here for more u.s. city facts ❯
RELATED FACTS
---
MORE IN U.S. CITIES
---