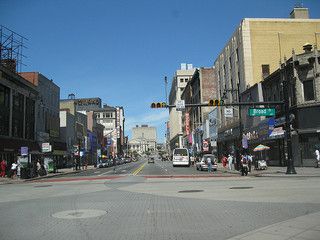 1. Port Gateway to the East Coast
Port Newark, the largest container shipping terminal on the East Coast, is located in the Port of New York and New Jersey. It is a major hub for international trade, handling over 3 million containers annually and providing jobs for thousands of people in the region. It is the largest port of its kind in the United States, and its strategic location makes it an ideal gateway for goods entering and leaving the country.

Also → Unique Gallery Space in Jersey City: Music & Fine Arts

Advertisement

2. Newark Liberty International Airport: A Gateway to the World
Opened in 1928, Newark Liberty International Airport was the first municipal commercial airport in the United States, and it has since become one of the busiest airports in the country. Serving over 40 million passengers annually, the airport is a major hub for United Airlines and a key gateway to the New York metropolitan area. It offers flights to destinations across the globe, including Europe, Asia, and the Caribbean. With its convenient location and extensive flight network, Newark Liberty International Airport is an essential part of the region's transportation infrastructure.
Also → Modern Art Museum in Fort Worth: Don't Miss It!
3. Newark's Cherry Blossom Paradise: Branch Brook Park
Branch Brook Park in Newark, New Jersey is the oldest county park in the United States and is renowned for its stunning cherry blossom trees. With over 4,300 trees, it is home to the largest collection of cherry blossom trees in the nation. The park is a popular destination for locals and tourists alike, offering a tranquil escape from the hustle and bustle of the city.
Also → Explore St. Pete's Rich History & Surroundings
4. Newark, Connecticut's Puritan Legacy
In 1666, a group of Connecticut Puritans led by Robert Treat from the New Haven Colony founded the city of Newark. This city, located in the northeastern United States, has a long and rich history, beginning with its founding by the Puritans. Robert Treat was a prominent leader in the New Haven Colony, and his influence can still be seen in Newark today. Newark has grown and changed over the centuries, but its Puritan roots remain an important part of its identity.

Also → Old Town Hall Museum: World's Only Gov't Museum

Advertisement

5. The Newark Public Library: A History of Innovation and Culture
The Newark Public Library is the largest library system in the state of New Jersey, boasting 11 locations across the city. Not only does it provide a wealth of books and resources, but it also produces a series of historical exhibits, giving visitors the opportunity to explore the city's rich history and culture. These exhibits feature artifacts, documents, photographs, and other materials that tell the story of Newark's past, from its founding in 1666 to the present day.
Also → 50 Private and Public Art Galleries in Buffalo
6. Newark's Vibrant Art Scene
Newark is a vibrant city with a thriving art scene. Home to numerous art galleries, Newark offers a variety of contemporary art experiences. Aljira, a Center for Contemporary Art, is a non-profit gallery that showcases the work of emerging and mid-career artists. City Without Walls is a gallery that focuses on exhibiting the work of local, national, and international artists. Gallery Aferro is a non-profit gallery that provides a platform for artists to explore their creative practice. Rupert Ravens Contemporary is a gallery that specializes in contemporary art from emerging and mid-career artists. Sumei Arts Center is a multi-disciplinary arts center that offers a variety of art classes and workshops. The Paul Robeson Galleries at Rutgers–Newark is a gallery that focuses on exhibiting the work of African American artists. With so many art galleries, Newark is a great place to explore and experience the world of contemporary art.
Also → Shreveport's R. W. North Art Gallery
7. Newark, New Jersey: The Sopranos' Home Town
The city of Newark, New Jersey has been featured prominently in the HBO television series The Sopranos. Many of the show's scenes were filmed in Newark, and the show was partially based on the life of Newark mobster Richard Boiardo. Boiardo was a major figure in the Newark underworld during the 1970s and 1980s, and his influence can be seen in the show's depiction of the city and its criminal elements. Newark's gritty atmosphere and its colorful characters have been a major part of the show's success, and the city has become an iconic backdrop for the series.

Also → The Great Falls Historic District

Advertisement

8. Newark's Sister Cities: A Global Hub of Culture and Commerce
The bustling city of Newark, New Jersey is a global hub of culture and commerce, boasting 13 sister cities around the world. From the ancient city of Kyoto, Japan to the modern metropolis of Durban, South Africa, Newark's sister cities span the globe, providing a unique opportunity for cultural exchange and economic development. Sister Cities International, a non-profit organization dedicated to promoting peace through mutual respect, understanding, and cooperation, has officially recognized these 13 cities as Newark's sister cities.
Also → Scouting Museum in Murray, KY: A World-Famous Destination
9. The Newark Museum: A Collection of Art, Science, and History
The Newark Museum is the largest museum in the state of New Jersey, boasting a collection of over 80,000 works of art, science, and history. Spanning a wide range of cultures and eras, the museum's permanent collection includes works from the ancient world, American art, contemporary art, and a variety of decorative arts. The museum also features a planetarium, sculpture garden, and interactive exhibits, making it a great destination for families and visitors of all ages.
Also → Birmingham: A Vibrant City with a Rich Cultural History
10. Explore Newark's History!
Newark, New Jersey is home to the New Jersey Historical Society, a museum that offers a variety of rotating exhibits that focus on the history of the state and the city. These exhibits provide visitors with an in-depth look at the past, from the earliest settlers to the present day. The museum also offers educational programs and workshops, as well as a library and archives for research. With its wide range of exhibits and activities, the New Jersey Historical Society is a great place to learn about the history of Newark and the state of New Jersey.

Also → Explore the World's Largest Children's Museum in Indy!

Advertisement