Ten fun facts about Omaha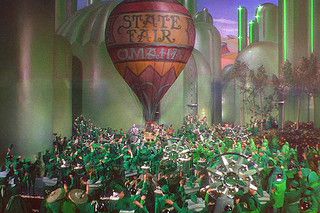 Fact 1
Omaha is located on the Missouri River in the Midwestern region of the United States. It is the largest city in the state of Nebraska.

Fact 2
In 1804 the Lewis and Clark Expedition passed through the river banks of what was to become Omaha.

Fact 3
Because of its central location, the city soon became a vital national transportation hub.

Fact 4
The First National Bank headquarters is located in this city and is known as the largest building between Chicago, IL and Denver, CO.
Fact 5
Warren Buffet, the well known millionaire investor, calls Omaha home. Fred Astaire was also originally from Omaha.
Fact 6
The NCAA College World Series has been held in the city of Omaha for more than fifty years till date.
Fact 7
The Henry Doorly Zoo in Omaha is known for having the largest indoor rainforest in the world.
Fact 8
Downtown Omaha is home to a historic district called Old Market that boasts many different locally owned restaurants, bars, galleries, and shops.
Fact 9
The headquarters of 5 Fortune 500 companies is located in this city. The 5 companies are packaged food company ConAgra Foods, construction company Kiewit Corporation, insurance company Mutual of Omaha, railroad operator Union Pacific Corporation and Berkshire Hathaway, which headed by the richest man in the world- Warren Buffet.
Fact 10
The original settlers in Omaha were various Native American tribes. The word Omaha translates to 'Dwellers on the bluff',
More interesting reads about...
Click here for more u.s. city facts ❯
RELATED FACTS
---
MORE IN U.S. CITIES
---