Ten fun facts about Milwaukee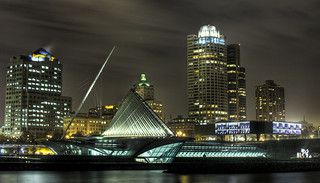 Fact 1
Milwaukee is the main cultural and economic center of the Milwaukee–Waukesha–West Allis Metropolitan Statistical Area.

Fact 2
There have been five ships of the United States Navy named after the city, including USS Milwaukee.

Fact 3
The word "Milwaukee" may come from the Potawatomi language minwaking, or Ojibwe language ominowakiing, "Gathering place (by the water)".

Fact 4
It is known for its brewing traditions.
Fact 5
Milwaukee's German element is still strongly present today.
Fact 6
The city celebrates its German culture by annually hosting a German Fest in July and an Oktoberfest in October.
Fact 7
Milwaukee's terrain is sculpted by the glacier path and includes steep bluffs along Lake Michigan that begin about a mile (1.6 kilometers) north of downtown.
Fact 8
Milwaukee is the home to the international headquarters of 6 Fortune 500 companies.
Fact 9
Milwaukee was once the home to four of the world's largest beer breweries (Schlitz, Blatz, Pabst, and Miller), and was the number one beer producing city in the world for many years.
Fact 10
The Milwaukee Public Museum has been Milwaukee's primary natural history and human history museum for 125 years.
More interesting reads about...
Click here for more u.s. city facts ❯
RELATED FACTS
---
MORE IN U.S. CITIES
---