Ten fun facts about San Francisco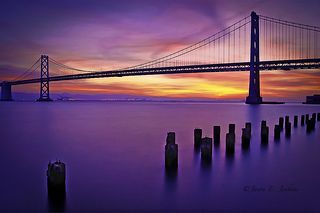 Fact 1
San Francisco was settled by Spanish missionaries not long after the start of the American Revolution. It was named for St. Francis of Assisi.

Fact 2
San Francisco's 49ers [American] football team is named for the California Gold Rush, when people seeking gold flocked to the West Coast in 1848 and 1849.

Fact 3
San Francisco was only a small settlement of about 200 people when the California Gold Rush started, and in less than ten years grew to a city of over 36,000.

Fact 4
San Francisco is home to the Golden Gate Bridge, which has the second longest single span in the world. The bridge's famous orange is a unique variant of "International Orange," made specifically for the bridge.
Fact 5
San Francisco has the next most populous Chinese community on the planet outside of China. Chinese immigrants founded the city's famous Chinatown (the oldest in the United States of America) in 1848.
Fact 6
San Francisco is the home of both the Chinese fortune cookie and chop suey, two of the most well-known fixtures of Chinese cuisine in America. The fortune cookie was actually created by Japanese immigrant Makoto Hagiwara, who also founded San Francisco's Japanese Tea Garden.
Fact 7
San Francisco's Lombard Avenue is famous for being the most crooked street in the world, but the honor actually belongs to another street in San Francisco, Vermont Avenue.
Fact 8
San Francisco's notorious Alcatraz Prison was the final destination for some of America's most cunning criminals, including George "Machine Gun" Kelly and Al Capone.
Fact 9
San Francisco was the point of entry for the internationally popular Irish Coffee cocktail, brought to America by travel writer Stanton Delaplane in 1952.
Fact 10
San Francisco is an epicenter for earthquakes, as it sits near two major faults. The most famous was the 1906 earthquake, which was responsible for destroying nearly 80% of the city.
More interesting reads about...
Click here for more u.s. city facts ❯
RELATED FACTS
---
MORE IN U.S. CITIES
---