Ten fun facts about Oklahoma City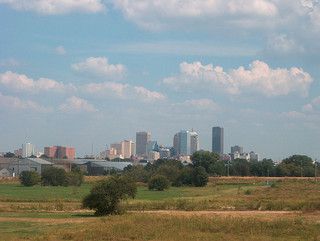 Fact 1
Oklahoma City is home to more man-made lakes than any other state in America, more than 200 in number.

Fact 2
The world's first shopping cart was invented and used by a local grocery store in Oklahoma City, at Stanford Food Market in 1937.

Fact 3
Oklahoma City was the first city in the world to install a parking meter, starting in 1935.

Fact 4
Only two state capitals include the state's name as part of the city's, Oklahoma City and Indianapolis.

Fact 5
The centerpiece of the Oklahoma City governor's mansion is a swimming pool in the shape of the state of Oklahoma.

Fact 6
Oklahoma City's capitol was the only in American history to have a working oil well on the premises.

Fact 7
WKY AM 930 was the first radio station to transmit west of the Mississippi River, and was headquartered in Oklahoma City.

Fact 8
Oklahoma City owes its name to the Native American Choctaw people, and comes from the native words "okla" meaning people and "humma" meaning red, literally translating to "red people"

Fact 9
The machine to automatically apply the twist tie, ubiquitous in its use to seal bread bags across the United States, was invented and first used at the Sara Lee Bakery in Oklahoma City.

Fact 10
The Oklahoma City Capitol Building was originally designed to include a dome, but one wasn't actually added until 2002.



More interesting reads about...
Click here for more u.s. city facts ❯
RELATED FACTS
---
MORE IN U.S. CITIES
---