Ten fun facts about Madison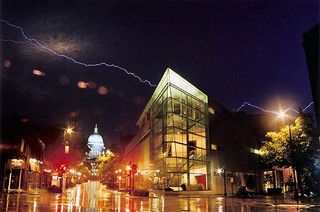 Fact 1
The State Capitol building in Madison is a very imposing white domed structure and is so prominent that it is used as a landmark for the entire city.

Fact 2
Michael Feldman, the prominent National Public Radio (NPR) personality lives in this city.

Fact 3
The city has been named after the fourth president of the U.S, James Madison.

Fact 4
The Wisconsin-Madison University "Badger" team is very popular and has a very vigorous fan base across the state.
Fact 5
The world-renowned architect, Frank Lloyd-Wright spent the teenage years of his life in this city.
Fact 6
Four large lakes border the city and the interesting fact is that the names and the meanings of the names of these lakes are still debatable.
Fact 7
There are close to a hundred miles of biking pathways in Madison and it boasts of a large number of bicyclists who aim at making the city a greener one.
Fact 8
Madison is home to the Nobel prize-winning scientist, John Bardeen and the speed-skating Olympic gold medalist, Eric Heiden.
Fact 9
One of the world's greatest soul and blues singers, Otis Redding died here in 1967 when his plane crashed into the Monona Lake. He was scheduled to play at a nightclub located near the University of Wisconsin the next day.
Fact 10
The Wisconsin-Madison "Badgers" got their name from the nineteenth century settlers here.
More interesting reads about...
Click here for more u.s. city facts ❯
RELATED FACTS
---
MORE IN U.S. CITIES
---