Ten fun facts about Dublin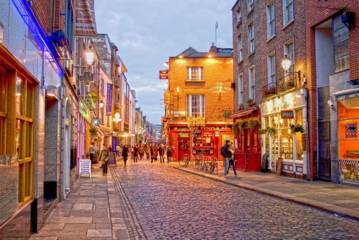 Fact 1
After the partition of Ireland in 1922, Dublin became the capital of the Irish Free State. It later became the capital of the Republic of Ireland.

Fact 2
In 2011, the approximate population living in Dublin City was about 527,612.

Fact 3
There is a north versus south division in the city because of the River Liffey. The north represents the working-class people while the south is seen as middle and upper middle class.

Fact 4
Though the city does see some snow showers in November to March, hail is more common and rain is the main precipitation in the winter.

Fact 5
Now a major Irish government complex, Dublin Castle was the seat of British rule in Ireland until 1922.

Fact 6
The Spire of Dublin, a pin-like 121.2 meter monument, was nominated in 2003, 2004 and 2005 for different awards.

Fact 7
On permanent display at the Trinity College Library in Dublin, is the Book of Kells; an illustrated book created by Irish monks in 800 AD. It is considered Ireland's finest national treasure.

Fact 8
In Mercer's 2011 Worldwide Cost of Living Survey, Dublin was the 13th most expensive city in the European Union and 58th most expensive place to live in the world.

Fact 9
After beginning the installation of cycle lanes in the 1990's, by 2012, the city has over 120 miles of on and off-road tracks for cyclists.

Fact 10
Dublin was named a 'City of Literature' by UNESCO in 2010, as part of their Creative Cities Network.



More interesting reads about...
Click here for more capital facts ❯
RELATED FACTS
---
MORE IN CAPITALS
---