Ten fun facts about Wichita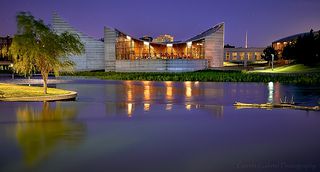 Fact 1
Wichita it located on the south central side of Kansas and is the largest city in the state. It is ranked 49th largest in the United States.

Fact 2
The Jones Automobile Company was based in Wichita and today the only Jones vehicle is on display at this location.

Fact 3
Before planes could cross the country without stopping, Wichita had one of the busiest airports in the US.

Fact 4
In 1932 Gage Brewer brought back electric guitars from California to be played at Halloween shows, while they did not catch on for a few years they are said to have grown in Wichita.
Fact 5
Coleman lanterns began being built in Wichita in 1901. In 1894 mentholatum was first developed in this city.
Fact 6
The first site of African Americans at a white lunch counter was in Wichita.
Fact 7
The White Castle burger chain was started in Wichita in 1921 but there has not been a franchise there since 1938.
Fact 8
The Sedgwick County Zoo is one of the largest in the nation and has more than 2,500 animals.
Fact 9
It is actually illegal for restaurants to sell cherry pie ala mode on Sundays in Wichita.
Fact 10
Another unusual rural in this city is that anyone can be jailed for up to one year if they were to make lewd remarks on the telephone.
More interesting reads about...
Click here for more u.s. city facts ❯
RELATED FACTS
---
MORE IN U.S. CITIES
---