Ten fun facts about Syracuse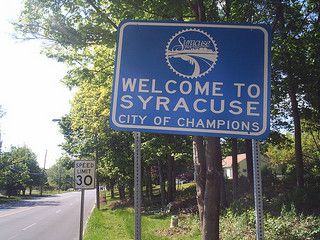 Fact 1
It is the economic and educational hub of Central New York, a region with over a million inhabitants.

Fact 2
In 2010 Forbes rated Syracuse 4th in the top 10 places to raise a family.

Fact 3
The first known Europeans in the area were the French who arrived in 1615.

Fact 4
Because of similarities such as a salt industry and a neighboring village named Salina, the name Syracuse was chosen by village planner, John Wilkinson, after Syracuse, Sicily.
Fact 5
Land to the north of Syracuse is generally flat while land to the south is hilly.
Fact 6
Syracuse's main water source is Skaneateles Lake, one of the country's cleanest lakes.
Fact 7
Syracuse has a humid continental climate and is known for its snowfall.
Fact 8
Over the course of 400 years, immigrants from all over the world have been attracted to the Central New York area.
Fact 9
The City of Syracuse maintains over 170 parks, fields, and recreation areas, totaling over 1,000 acres.
Fact 10
Burnet Park includes the first public golf course in the United States and Rosamond Gifford Zoo.
More interesting reads about...
Click here for more u.s. city facts ❯
RELATED FACTS
---
MORE IN U.S. CITIES
---