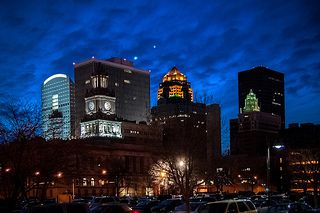 1. The History of Des Moines
The city of Des Moines has a unique origin story. It began as "Fort Raccoon" in 1843, but was later renamed "Fort Des Moines" after the Des Moines River, which flows through the city. The river was named by French explorers in the late 17th century, and is derived from the French phrase "la rivière des Moines," which translates to "River of the Monks." The city has since grown to become the capital of Iowa and the most populous city in the state.

Also → Cedar Rapids: A Great Place to Experience the Midwest

Advertisement

2. The Best City for Business: Des Moines
In 2010, Des Moines was ranked the best city for business by Forbes Magazine, the renowned business publication. This accolade was based on factors such as the city's low cost of doing business, its educated workforce, and its strong economic growth. Des Moines also boasts a diverse economy, with a range of industries from finance to manufacturing. This recognition from Forbes Magazine is a testament to the city's commitment to creating a business-friendly environment.
Also → Hartford, Connecticut: The Insurance Capital of the World
3. The Top 3 Insurance Cities in the World
Des Moines is a major hub for insurance agencies, ranking third in the world behind London and Hartford. With over 500 insurance companies and more than 30,000 insurance professionals, Des Moines is a major player in the global insurance industry. The city is home to some of the world's largest insurance companies, including Principal Financial Group, Wellmark Blue Cross Blue Shield, and Nationwide Mutual Insurance Company. With its strong economy and vibrant insurance sector, Des Moines is a great place to do business.
Also → Fort Collins, Colorado: The Best Place to Live
4. Ozzy Osbourne Bites Head Off Live Bat In Des Moines
In 1982, the legendary heavy metal rocker Ozzy Osbourne shocked the audience at a concert in Des Moines, Iowa, when he bit the head off of a live bat on stage. The incident, which has become part of rock and roll lore, occurred during a performance at the Veterans Memorial Auditorium in Des Moines. The bat, which had been thrown onto the stage by an audience member, was quickly seized by Osbourne, who proceeded to bite off its head before spitting it out. The audience was reportedly horrified by the incident, and the show was cut short shortly afterwards.

Also → Henderson, Nevada: A City of Charm and Quality of Life

Advertisement

5. The Best Mid-Sized City in the United States: Des Moines
Des Moines, Iowa has been recognized as one of the best mid-sized cities in the United States for its high quality of life. Residents of the city enjoy a wide range of amenities, from excellent schools and healthcare to a vibrant cultural and entertainment scene. The city also boasts a low cost of living, making it an attractive option for those looking to settle down in a comfortable and affordable place. With its strong economy, diverse population, and abundance of recreational activities, Des Moines is an ideal place to call home.
Also → Iowa - The Only State in the US with a Unique Name
6. The Des Moines Potato Chip Habit
The residents of Des Moines have an impressive appetite for potato chips, consuming an average of eleven pounds per person each year. That's enough to fill a large shopping bag, and enough to make Des Moines one of the top potato chip-consuming cities in the United States. With a wide variety of flavors available, it's no wonder why the city's residents have such a taste for the salty snack.
Also → Fontana: A City with a Strong Economy and Lots of Job Opportunities
7. The Des Moines Metro Area: A Vibrant and Diverse City
Every four years, the city of Des Moines plays host to the Iowa caucuses, a major political event that draws in people from all over the country. But even in the years between caucuses, Des Moines remains a bustling city, with over 77,000 people travelling to its downtown area each week to work. This influx of people helps to make Des Moines a vibrant and diverse city, and a great place to live and work.

Also → Doha: World's Top 15 City for Business

Advertisement

8. The Capitol Building in Des Moines, Iowa
Des Moines, Iowa is home to the number one tourist attraction in the state - the capitol building. This impressive structure stands at the heart of the city, and is a must-see for visitors. The building is a stunning example of neoclassical architecture, with its grand columns and ornate details. Inside, visitors can explore the rotunda, the legislative chambers, and the many other rooms that make up the capitol building. With its rich history and beautiful architecture, the capitol building in Des Moines is a must-see for anyone visiting the city.
Also → Norfolk: A bustling city with a rich history
9. Gray's Lake Park: A tranquil oasis in the heart of Des Moines
Just a stone's throw away from the hustle and bustle of downtown Des Moines lies Gray's Lake Park, a tranquil oasis for those looking to escape the city's busy streets. Here, visitors can take a leisurely stroll along the park's walking trails, or rent a paddle or sail boat to explore the lake. With its peaceful atmosphere and picturesque views, Gray's Lake Park is the perfect spot to relax and unwind.
Also → Raleigh: The Capital of North Carolina
10. The Des Moines Attractions
The city of Des Moines is home to two of the most renowned attractions in the world: the Iowa State Fairgrounds and the Iowa Barnstormers. The Iowa State Fairgrounds is a sprawling complex that hosts the annual Iowa State Fair, which draws in millions of visitors from around the world. The Iowa Barnstormers, on the other hand, is a professional indoor football team that plays in the Indoor Football League. Both attractions are highly popular and draw in large crowds of people from all over the world.

Also → Chandler: A Bustling City of 300K+

Advertisement