Ten fun facts about Buffalos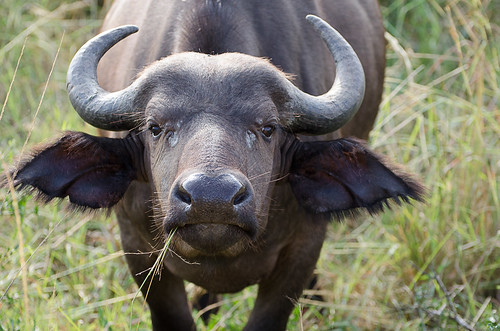 Fact 1
Also referred to as Affalo, the buffalo is one of the most abundant of Africa's large herbivores. It requires plenty of water and cannot survive in arid regions that have less than 10 inches of rain.

Fact 2
The African buffalo differs from the domesticated water buffalo found in other parts of the world though they both resemble one another superficially.

Fact 3
There is only one genus and one species of buffalo in Africa but this single species has two different types: the small dwarf forest buffalo and the large savanna buffalo.

Fact 4
These buffalos live in large numbers which can be as high as 2000 members.
Fact 5
The horns of an African buffalo are good indicators of their age and gender. The adult male has a hard shielding which protects the base of its skull. This is absent in females and young male buffalos.
Fact 6
Twins and "white calves' are very rare among the Buffalo species.
Fact 7
Buffalos are capable swimmers. They often cross deep water in search of better grazing.
Fact 8
The hide on the buffalo's neck is 2 inches thick and this protects them during battles with other bulls for dominance
Fact 9
Buffalos never forgive and will attack people who have harmed those even years later
Fact 10
They have four times the strength of an ox and can easily tip a motorcar.
More interesting reads about...
Click here for more animal facts ❯
RELATED FACTS
---
MORE IN ANIMALS
---