Ten fun facts about Pomona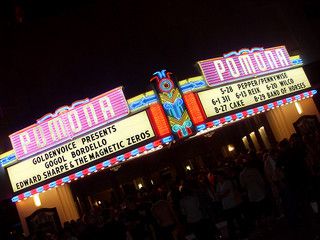 Fact 1
The area was originally occupied by the Tongva or Gabrielino Native Americans.

Fact 2
The city is named for Pomona, the ancient Roman goddess of fruit.

Fact 3
Religious institutions are deeply embedded in the history of Pomona. There are now more than 120 churches, representing most religions in today's society.

Fact 4
Pomona has a Mediterranean climate with hot, dry summers and mild, damp winters and a large amount of sunshine year-round.
Fact 5
In an "I Love Lucy" episode, the main characters of the show "go out to the country" on a day trip to Pomona. This is now seen as odd due to Pomona since becoming quite urban. In 1940, Lucille Ball and Desi Arnaz spent their honeymoon in downtown Pomona.
Fact 6
The city is the site of the Fairplex, which hosts the L.A. County Fair and the NHRA Auto Club Raceway at Pomona, (formerly known as Pomona Raceway) Powerade Winternationals Drag Racing competition.
Fact 7
2006 film "Alpha Dog", directed by Nick Cassavetes, is a film based on the true story of the kidnapping and murder of 15-year-old Nicholas Markowitz and related events, some in Pomona, in 2000.
Fact 8
In a Walt Disney 1940 Cartoon short, "Mr. Mouse Takes a Trip" Mickey & Pluto board a train from Burbank while evading a "no dogs allowed" policy enforced by conductor Pete (Disney) until coincidentally getting kicked out at their destination, Pomona.
Fact 9
In 2003 the film "The Cat in the Hat" starring Mike Myers transformed Pomona's Antique Row into a scene straight from the imagination of Dr. Suess'.
Fact 10
In 2005 the film "Herby Fully Loaded" starring Lindsey Lohan filmed a car race on Pomona's White Ave.
More interesting reads about...
Click here for more u.s. city facts ❯
RELATED FACTS
---
MORE IN U.S. CITIES
---