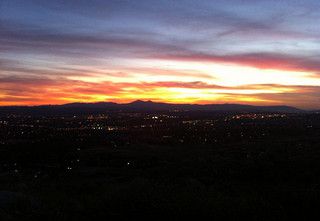 1. A Young City on the Rise
Moreno Valley is a relatively young city, having only been incorporated in 1984. Despite its youth, the city has seen rapid growth since before it was officially incorporated, making it one of the fastest growing cities in the region. This growth has been driven by the city's proximity to major transportation hubs, its diverse economy, and its attractive housing market. As a result, Moreno Valley has become a popular destination for people looking to relocate to the area.

Also → The City of Silicon Valley

Advertisement

2. Peaceful Retreat in Moreno Valley
Nestled within the Inland Empire, Moreno Valley is a mere hour's drive east of the bustling city of Los Angeles. With its close proximity to the city, Moreno Valley offers a peaceful retreat from the hustle and bustle of the city life, while still providing easy access to all the attractions and amenities that Los Angeles has to offer. Whether you're looking for a weekend getaway or a place to call home, Moreno Valley is the perfect destination.
Also → Fremont: A City in the Heart of Silicon Valley
3. Military installations in Moreno Valley
The city of Moreno Valley is home to the March Air Reserve Base, a military installation located just outside of the city limits. The base is home to the 452nd Air Mobility Wing, which is part of the Air Force Reserve Command and is responsible for providing airlift and aerial refueling support to the United States Air Force. The base also houses the Air Force Reserve Command's 943rd Rescue Group, which provides combat search and rescue capabilities to the United States and its allies. The base is a major employer in the area, providing jobs to thousands of military personnel and civilian employees.
Also → Brownsville, Texas: The Gateway to the Rio Grande Valley
4. A bustling city with a diverse economy
Moreno Valley is a bustling city with 10,364 businesses in operation. From small mom-and-pop shops to large corporations, the city is home to a wide variety of businesses that provide goods and services to the local community. From retail stores to restaurants, auto repair shops to medical offices, Moreno Valley has something for everyone. With its diverse economy and strong business presence, Moreno Valley is a great place to live, work, and play.

Also → Mesa, Arizona: A City of Diversity

Advertisement

5. 19% of Moreno Valley Business Owners are African American
In Moreno Valley, African Americans make up an impressive 19% of business owners, despite comprising only 18% of the population. This is a remarkable statistic, especially considering that the majority of the city's residents are white. It's a testament to the entrepreneurial spirit of the African American community in Moreno Valley.
Also → Palmdale: A City on the Rise
6. Reducing Traffic Congestion in Moreno Valley
The average worker in Moreno Valley spends an average of seventy minutes a day commuting to and from work, with a one-way trip taking approximately thirty-five minutes. This means that Moreno Valley residents are spending a significant amount of time in their cars, buses, or other forms of transportation, making it important for the city to provide efficient and reliable public transportation options. Additionally, the city should consider ways to reduce traffic congestion and improve the overall quality of life for its residents.
Also → The Salinas Valley: A Major Agricultural Hub
7. A Prosperous City with Low Poverty Rate
Moreno Valley is a city in California with a population of over 200,000 people, yet only 18% of its residents are living below the poverty level. This is a surprisingly low number, considering the national poverty rate is over 12%. This indicates that Moreno Valley is a relatively prosperous city, with a strong economy and plenty of job opportunities.

Also → South America's Only Growing Glacier - the Perito Moreno glacier

Advertisement

8. The Success of the Moreno Valley School System
Moreno Valley is a city in California that is home to a thriving school system, with an impressive 74% of students graduating from high school. This is a remarkable achievement, and speaks to the dedication of the teachers, administrators, and students in the Moreno Valley school system. The city is committed to providing a quality education to its students, and the results of their hard work are evident in the high graduation rate.
Also → The Capital of Idaho: Boise
9. A Young City with a Bright Future
Moreno Valley is home to 197,838 residents, of which 51% are female. This city has a relatively young population, with only 6% of its residents being over the age of 65.
Also → Santa Rosa: A City with Stunning Views
10. The Desirability of Moreno Valley
Moreno Valley is a great place to call home, with 83% of the population having lived in the same residence for over a year and a median home value of over $200,000. This is a testament to the stability and desirability of the area, making it an attractive place to live for those looking for a safe and secure place to call home.
More facts on
Advertisement