Ten fun facts about Ferrets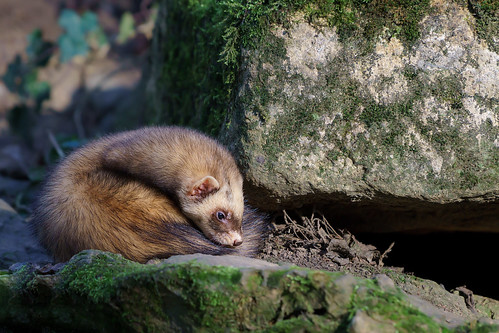 Fact 1
Ferrets typically have brown, black, white, or mixed fur.

Fact 2
They have a natural lifespan of 7 to 10 years.

Fact 3
Ferrets have likely been domesticated for at least 2,500 years.

Fact 4
They are still used for hunting rabbits in some parts of the world today, but increasingly they are kept simply as pets.
Fact 5
A new born baby ferret can fit in the palm of a 2-year old child.
Fact 6
Ferrets have weak vision, but their senses of smell and hearing are strong.
Fact 7
The third most popular pet in the United States is the ferret. There are estimated 8-10 million pet ferrets in the US.
Fact 8
Ferrets were used on ships to hunt rats and control their population.
Fact 9
Ferrets love to play and are very entertaining to watch.
Fact 10
Ferrets sleep a lot, usually about 18 hours a day. They are typically active at dawn and at dusk but most ferrets will adapt their sleeping and active times to fit their owner's schedule.
More interesting reads about...
Click here for more animal facts ❯
RELATED FACTS
---
MORE IN ANIMALS
---