Ten fun facts about Sacramento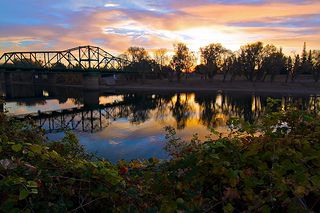 Fact 1
Sacramento is California's sixth capital, since 1854, and has been the state capital on two different occasions.

Fact 2
Sacramento has some unique nicknames, including "The Camella Capital of the World," "City of Trees," and "The Big Tomato."

Fact 3
Sacramento features an extensive network of tunnels beneath the city's foundations, built during the raising of the city to avoid flooding.

Fact 4
Sacramento is one of America's "haunted" cities. Some of the famously haunted locations include the Governor's Mansion and the California State Library.
Fact 5
Sacramento's $68 million renovation of the Capitol building in 1976 was the largest restoration project of that time in U.S. history.
Fact 6
Sacramento is second only to Paris, France, in number of trees per capita in the world.
Fact 7
Sacramento is home to the world's largest almond processing plant, Blue Diamond. On a busy day during harvest season, more than 12 million pounds of almonds are delivered for processing.
Fact 8
Sacramento's elevation is only 17 feet above sea level, even after the city's raising in the mid-1800s.
Fact 9
Sacramento was the birthplace of the Pony Express. The 1,980-mile mail delivery service began in 1860, and traveled from Sacramento to St. Joseph, Missouri.
Fact 10
Sacramento was where Mark Twain was hired as a special news correspondent with the now-defunct Sacramento Union newspaper in 1866, reporting on the city during its old west days.
More interesting reads about...
Click here for more u.s. city facts ❯
RELATED FACTS
---
MORE IN U.S. CITIES
---