Ten fun facts about El Paso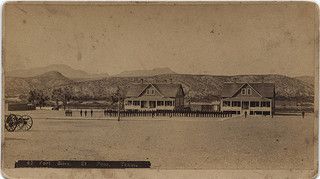 Fact 1
1n 1930, Conrad Hilton, the hotel mogul opened the opulent Plaza Hotel, which at that time was El Paso's first high rise hotel and to this day is a city landmark.

Fact 2
Francisco "Pancho" Morales was supposedly responsible for inventing Margarita, the tequila-based drink, at Tommy's place Bar in 1945, in the Juarez region.

Fact 3
The imposing Mount Cristo Rey statue of Christ is not a crucifix in the true sense of the word as Christ's palms face downward and are a gesture of blessing.

Fact 4
The Doubletree Hotel which was once the El Paso International Hotel, boasts of celebrity guests such as Steve McQueen, Elvis Presley and Ali McGraw.
Fact 5
The Jones Stadium in the El Paso High School was used as a staging area by Gen John Pershing when he pursued Francisco "Pancho" Villa.
Fact 6
The city's first and oldest street is the El Paso Street. It was the scene of the infamous Four Dead in Five Seconds Gunfight. The likes of Billy the Kid, Pancho Villa and President William H. Taft have been some of the famous people who walked down this street.
Fact 7
El Paso County's Yselta del Sur Pueblo, Tigua Indian Reservation is one of the two Indian reservations in the state of Texas.
Fact 8
This is the state's sole major city that runs on Mountain Standard Time.
Fact 9
It was possible to celebrate two New Year's when Ciudad Juarez, its sister city ran on Central Standard Time.
Fact 10
The city's lawlessness in the late 1800's had earned it the moniker of "Six Shooter Capital". Today, it is a peaceful and popular city and is popularly called the Sun City.
More interesting reads about...
Click here for more u.s. city facts ❯
RELATED FACTS
---
MORE IN U.S. CITIES
---