Ten fun facts about Nashville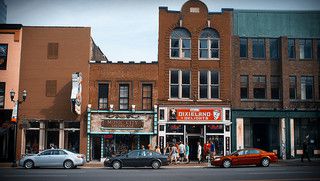 Fact 1
Nashville is home to the Country Music Hall of Fame. The windows of the Country Music Hall of Fame are designed to resemble the keys of a piano.

Fact 2
Nashville's iconic Music Row is where Elvis Presley recorded more than 200 of his songs at RCA's historic Studio B.

Fact 3
Nashville was granted the first FM radio license in the United States in 1941.

Fact 4
Nashville is the birthplace of the popular Grand Ole Opry show. The original name of the Grand Ole Opry was The WSM Barn Dance.

Fact 5
Nashville is the home of The Standard Candy Company. The confectioner has been making the sweet known as the Goo Goo Cluster, a cluster of peanuts, caramel, marshmallow, and milk chocolate, since 1912.

Fact 6
Nashville is where the phrase "good to the last drop" was first uttered by President Franklin Roosevelt after sipping coffee at Nashville's Maxwell House Hotel.

Fact 7
Nashville's Athena Parthenos is the tallest indoor sculpture in the Western world. She stands an impressive 42 feet high in the temple of the Parthenon.

Fact 8
Nashville is where Andrew Jackson, seventh president of the United States, built his home. Named "The Hermitage," the property boasts a driveway in the shape of a guitar.

Fact 9
Nashville is where the nickname Old Glory was first given to the American Flag by Retired Captain William Driver in 1837.

Fact 10
Nashville has been cited for the greatest concentration of guitar pickers in the world, numbering at 1352, though a proper census of guitar pickers has never been performed.



More interesting reads about...
Click here for more u.s. city facts ❯
RELATED FACTS
---
MORE IN U.S. CITIES
---