Ten fun facts about Akron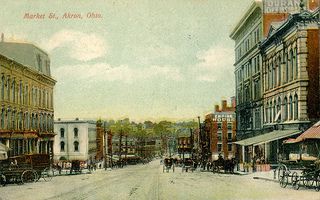 Fact 1
Akron is where Charles E. Menches invented such items as the ice cream cone, the hamburger, and caramel corn.

Fact 2
The city is home to one of the largest buildings standing that is designed with no interior supports. This building stands twenty two stories high. It is tall enough that it creates rain inside the structure. The building was used by Goodyear for creating blimps in.

Fact 3
Akron is the home to the first established toy company in the United States. They made marbles.

Fact 4
This was where Alcoholics Anonymous first started out. It was founded in 1935 by Bill Wilson and Dr. Bob Smith.

Fact 5
Akron is reported to be the birthplace of the trucking industry in the United States.

Fact 6
The city is home to the famous Quaker Oatmeal cereal company. Processed cereals are said to have got their start here as well.

Fact 7
In 1899, the first police patrol wagon in the United States started operations in this city.

Fact 8
Akron's school system was where the idea of a superintendent of schools was first thought of. They had the first graded school system.

Fact 9
The famous basketball player Lebron James was born and raised in Akron. Lebron was first drafted to play ball after his graduation from the St. Vincent-St. Mary High School in Akron.

Fact 10
The city was home to Linda Lorenz-Sengpiel. She was the unbeaten yo-yo champion of Akron and she once offered to pay prize money of $100,000 to anyone who could beat her record. No one ever did.



More interesting reads about...
Click here for more u.s. city facts ❯
RELATED FACTS
---
MORE IN U.S. CITIES
---