Ten fun facts about Pittsburgh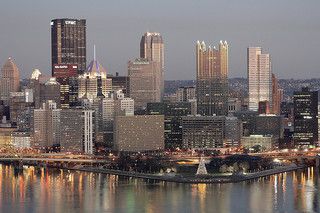 Fact 1
The city of Pittsburgh is located in the Southeast part of the state in Pennsylvania.

Fact 2
Pittsburgh is home to the Oakmont Country Club which is the only country club to have ever hosted seven US opens.

Fact 3
Pittsburg is home to more than 300 businesses in the steel industry, earning it the famous nickname 'The Steel City".

Fact 4
Pittsburg is also known as 'The City of Bridges' as it is home to a total of 446 bridges, which is a world record for most number of bridges in any one city.
Fact 5
The neighborhood that was filmed as being Mr Roger's neighborhood is located in the Oakland section of the city. The zombie movies "Dawn of the Dead" and "Night of the Living Dead" were also filmed in this area.
Fact 6
In 1905 the first movie theater was opened in Pittsburgh.
Fact 7
It is the city where Andy Warhol grew up and drew much of his inspiration.
Fact 8
There are over 700 sets of stairs in Pittsburgh.
Fact 9
There is a bike and running trail that goes from the city all the way to Washington DC.
Fact 10
Numerous parks, museums, libraries and medical centers along with a fantastic research infrastructure and a thriving diverse cultural district have all earned the city a title of 'most livable cities in America' according to Forbes magazine.
More interesting reads about...
Click here for more u.s. city facts ❯
RELATED FACTS
---
MORE IN U.S. CITIES
---