Ten fun facts about Denmark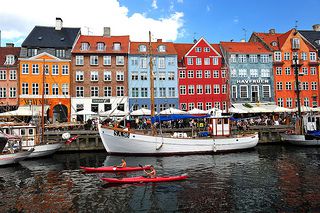 Fact 1:
Denmark was the first European country to abolish slavery.

Fact 2:
The "Dannebrog" is the oldest national flag in the world.

Fact 3:
The average tax rate in Denmark is 49%.

Fact 4:
Danes eat more pasta than any other people.
Fact 5:
There is not a single mountain in Denmark. The closest thing is a 170 meters high hill called Møllehøj.
Fact 6:
Denmark has been a member of the EU since 1973 and of NATO since 1949.
Fact 7:
Denmark is the fifth largest exporter of food in the world.
Fact 8:
Only three Danish films have sold more than one million tickets.
Fact 9:
Denmark came up with Lego.
Fact 10:
Denmark has been inhabited since about 12,500 BC.
More interesting reads about...
Click here for more country facts ❯
RELATED FACTS
---
MORE IN COUNTRIES
---