Ten fun facts about Thailand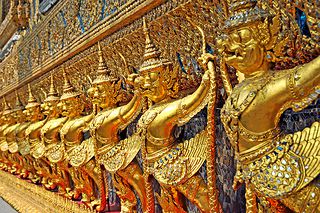 Fact 1:
The Tee Law Su is the highest waterfall in Thailand.

Fact 2:
The name Thailand means Lands of the Free.

Fact 3:
Thailand was known as Siam until 1939.

Fact 4:
The capital city of Thailand is Bangkok.
Fact 5:
The currency in Thailand is the Baht.
Fact 6:
Doi Inthanon is the highest peak in Thailand.
Fact 7:
Phuket is Thailandís largest island.
Fact 8:
The life expectancy of a Thai person is 69 years.
Fact 9:
The Thai flag has five horizontal bands of red, white and blue.
Fact 10:
Thailand borders Burman, Cambodia, Laos and Malaysia.
Go to more country facts ❯
MORE IN COUNTRIES
---
RELATED FACTS
---