Ten fun facts about Tripoli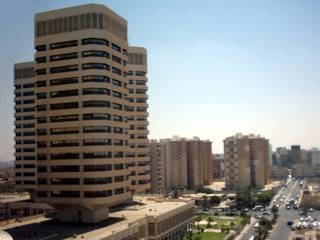 Fact 1
The city was founded in the 7th century B.C. by Phoenicians; they initially namded it 'Oea'.

Fact 2
Sometimes the city is referred to or known as 'Tripoli-of-the-West', to help distinguish it from its older Phoenician sister city, Tripoli, Lebanon.

Fact 3
Tripoli, a Greek name, comes from the Greek name 'Tripolis' meaning 'three cities'.

Fact 4
The Tripoli International Fair, founded by the Italian government in 1927, is said to be the oldest trade fair in Africa.

Fact 5
Average rainfall in Tripoli is less than 16 inches per year, but the city has experienced epic floods back in 1945.

Fact 6
The Tripoli Zoo located in the city is the country's biggest zoo with plants, trees and open green spaces.

Fact 7
The city has their own motor racing event, the Tripoli Grand Prix, but it only lasted from 1925 until 1940.

Fact 8
The Red Castle Museum, located in Tripoli, was designed with help from UNESCO and is Libya's national museum. It covers 5,000 years of history.

Fact 9
Opened in 1928, the second commissioned Catholic church in the city, is the Tripoli Cathedral.

Fact 10
The University of Tripoli was ranked number 8 in 2014 for top universities in Lebanon.



More interesting reads about...
Click here for more capital facts ❯
RELATED FACTS
---
MORE IN CAPITALS
---