Ten fun facts about Sri Lanka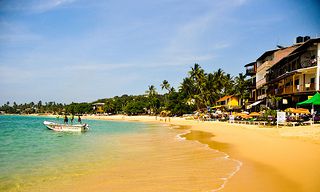 Fact 1:
Sri Lanka is often known as the Pearl of the Indian Ocean.

Fact 2:
The world famous writer Michael Ondaatje comes from Sri Lanka.

Fact 3:
Sri Lanka is the world's largest tea exporter.

Fact 4:
Sri Lanka was the first country in the world to have a democratically elected head of state who was a woman.
Fact 5:
Sri Lankas national flag is considered to be one of the oldest flags in the world.
Fact 6:
There are eleven universities located in Sri Lanka.
Fact 7:
The spice cinnamon originated in Sri Lanka and was discovered by the Egyptians.
Fact 8:
The currency of Sri Lanka is the Sri Lankan Rupee.
Fact 9:
The most common meal in Sri Lanka is a spicy curry served with rice and a small side dish of vegetables.
Fact 10:
Sri Lanka was known as Ceylon before 1972.
More interesting reads about...
Click here for more country facts ❯
RELATED FACTS
---
MORE IN COUNTRIES
---