Ten fun facts about Food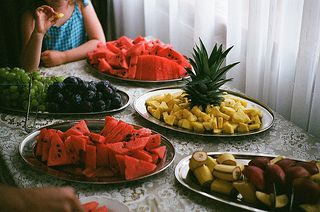 Fact 1:
Eskimos use refrigerators to prevent thier food from freezing.

Fact 2:
The longest banana split made was 732 cm long.

Fact 3:
An average person eats about 50 tons of food in thier life.

Fact 4:
Bananas and cucumbers are actually berries.

Fact 5:
In the early 1900s was a German company manufacturer of edible grammofinskivor chocolate, fully playable.

Fact 6:
British women would rather eat chocolate than have sex.

Fact 7:
Originally, Coca-Cola contained cocaine.

Fact 8:
The adhesive on stamps contains 2-8 calories.

Fact 9:
They have square watermelons in Japan.

Fact 10:
Cubans eat about a quarter of a kilo of sugar per day.


More interesting reads about...
Click here for more food facts ❯
RELATED FACTS
---
MORE IN FOOD
---