Ten fun facts about Easter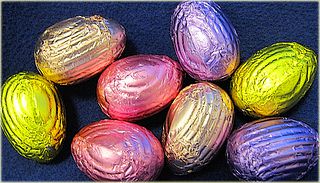 Fact 1:
Over 90 million chocolate Easter bunnies are produced each year.

Fact 2:
600 million eggs are usually sold in USA during the months of March and April.

Fact 3:
After Halloween, Easter is the biggest candy consuming holiday.

Fact 4:
The first chocolate eggs were made in Germany in the 19th century

Fact 5:
Americans consume more than 16 billion jellybeans at Easter,

Fact 6:
The first Easter baskets were made to imitate bird nests

Fact 7:
76 % eat the ears on chocolate bunnies first.

Fact 8:
Solving murder mysteries is very popular in Norway during Easter.

Fact 9:
The world's largest jar of jelly beans weighed 2744 kilograms.

Fact 10:
The traditional act of painting eggs is called Pysanka.


More interesting reads about...
Click here for more holiday facts ❯
RELATED FACTS
---
MORE IN HOLIDAYS
---