Ten fun facts about Chickens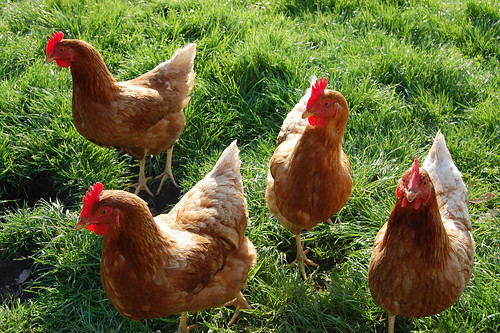 Fact 1
A chicken heart beats between 280 – 315 times in one minute.

Fact 2
Chickens can lay over 600 eggs in their first two years without the need of a rooster. They start laying them at the age of 6 months.

Fact 3
Chickens can run at speeds up to 9 mph. A headless chicken can run the length of a football field before dropping dead as long as there is no damage to the brain stem.

Fact 4
The mother hens turn their eggs about 50 times a day to prevent the yolk from sticking to the shell.
Fact 5
Chickens are omnivores. They eat seeds, fruits, seed insects, mice and lizards. They may live for 5 - 11 years in the wild.
Fact 6
They live together as a flock and have a communal approach to the incubation of eggs and raising of their young.
Fact 7
Chicken with red ear lobes lays brown eggs and those with white earlobes lay white eggs.
Fact 8
Females are called pullets till they are old enough to lay eggs. Baby chickens are chick and males are roosters, cocks or cockerels.
Fact 9
Chickens form complex social structures known as "pecking orders" and every chicken knows his or her place on the social ladder.
Fact 10
They have a full-color vision. They are extremely clean in their natural environment and preen their feathers everyday
More interesting reads about...
Click here for more animal facts ❯
RELATED FACTS
---
MORE IN ANIMALS
---