Ten fun facts about Water polo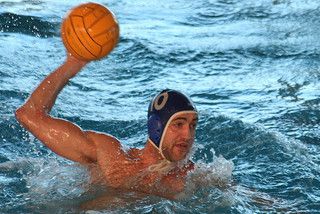 Fact 1:
The game was originated as a form of rugby played in rivers and lakes in England and Scotland.

Fact 2:
Water polo players wear white so that their coaches can identify them at night.

Fact 3:
William Wilson is the person who developed the rules of water polo in the nineteenth century.

Fact 4:
There are different variations of Water polo and thus each variation has it's own set of rules.

Fact 5:
The goal keeper is the only player who can touch the ball with his two hands within five meters area in front of the goal.

Fact 6:
Prince William was the captain of his water polo team at St Andrew's University.

Fact 7:
Water polo was considered a brutal game for women, until they start playing it in the 1950s.

Fact 8:
Water polo was introduced in the Olympics in 1990.

Fact 9:
The special kick that water polo players do while they're not swimming in the water is called "Egg beater". It's allows them to move easily in pool without swimming.

Fact 10:
The first time women water polo was included at the Olympics was in year 2000.


More interesting reads about...
Click here for more sport facts ❯
RELATED FACTS
---
MORE IN SPORTS
---