Ten fun facts about Bill Gates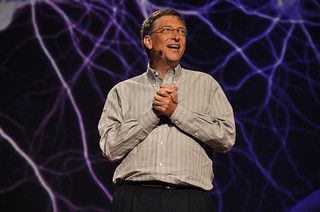 Fact 1:
Bill Gates was born on 28th of October 1955 in Seattle, Washington.

Fact 2:
Bill Gates full name is William Henry Gates III.

Fact 3:
As of 2011, his fortune is worth $59 billion.

Fact 4:
Gates told his university teachers he would be a millionaire by age 30. He became a billionaire at age 31.
Fact 5:
Gates graduated high school in 1973 and scored 1590 of 1600 on the SAT.
Fact 6:
He is married to Melinda Gates and has 3 children.
Fact 7:
Bill Gates was influenced by John D. Rockefeller and in 1994, he sold some of Microsoft's stocks to build the Bill & Melinda Gates Foundation.
Fact 8:
The first computer program that he wrote was a tic-tac-toe game that allowed people to play against the computer.
Fact 9:
Bill Gates enjoys playing tennis, golf and bridge.
Fact 10:
Bill Gates earns about $250 every second.
More interesting reads about...
Click here for more people facts ❯
RELATED FACTS
---
MORE IN PEOPLE/CELEBRITIES
---