Ten fun facts about Nelson Mandela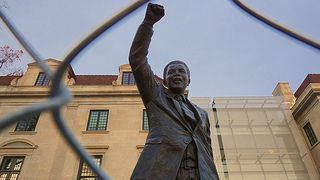 Fact 1:
Nelson Mandela was the first South Afrikan President who was elected in a completely democratic election.

Fact 2:
Nelson Mandela was an activist against apartheid, and he was the leader of the armed wing of the African National Congress.

Fact 3:
Nelsom Mandela spent twenty-seven years in prison, many of those years were spent on Robben Island.

Fact 4:
Nelson Mandela won the Nobel prize in 1993.
Fact 5:
Nelson Mandela was born in Mvezo on July 18 of 1918.
Fact 6:
Nelson Mandela's original name was Rolihlahla Mandela.
Fact 7:
In his spare time, Nelson Mandela studied to become a lawyer.
Fact 8:
Nelson Mandelas favorite breakfast is plain porridge, with fresh fruit and fresh milk.
Fact 9:
Nelson Mandela has honorary degrees from more than 50 international universities.
Fact 10:
Nelson Mandela retired from Public life in June 1999 and currently resides in his birth place.
More interesting reads about...
Click here for more people facts ❯
RELATED FACTS
---
MORE IN PEOPLE/CELEBRITIES
---