Ten fun facts about Ghana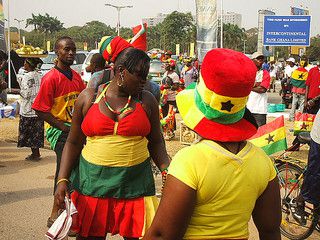 Fact 1:
Ghana has a population of over 23 million people.

Fact 2:
The official language of Ghana is English along with other African languages.

Fact 3:
Ghana is the first sub-Saharan country to gain its independence from Britain in 1957.

Fact 4:
Ghana is heavily dependent on international financial aids.

Fact 5:
Gold and cocoa are considered a mainstay of economy in Ghana.

Fact 6:
The currency used in Ghana is called Cedi.

Fact 7:
Ghana has a substantial freedom of media; as the private press functions with no restrictions.

Fact 8:
The capital city of Ghana is Accra.

Fact 9:
Ghana is divided into small groups that together speak more than 50 languages.

Fact 10:
Ghana borders with Ivory Coast, Burkina Faso and Togo.


More interesting reads about...
Click here for more country facts ❯
RELATED FACTS
---
MORE IN COUNTRIES
---