Ten fun facts about Avril Lavigne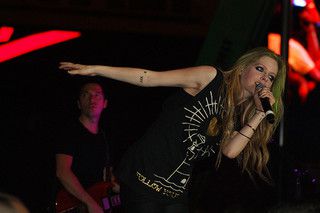 Fact 1:
She was born on the 27th of September 1984.

Fact 2:
Her parents, Judy and John Lavigne, are French-Canadians.

Fact 3:
Avril has an older brother, Matthew, and a younger sister, Michelle.

Fact 4:
She dropped out of high school in the 11th grade.
Fact 5:
Her album "Let Go" was the third bestselling album of 2002.
Fact 6:
Avril's first music video, Complicated, cost over a million dollars.
Fact 7:
Avril started playing guitar when she was 10.
Fact 8:
The origins of Avril's name is French and means April.
Fact 9:
Avril used to sing in church with her mother when she was 2 years old.
Fact 10:
Her mother discovered her talent after Avril sang "Jesus Loves Me" in church.
More interesting reads about...
Click here for more people facts ❯
RELATED FACTS
---
MORE IN PEOPLE/CELEBRITIES
---