Ten fun facts about Arkansas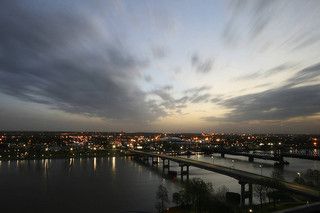 Fact 1
Wal-Mart was founded in Bentonville, Arkansas by Sam Walton in 1950 and is currently the world's largest retailer with a revenue of more than 450 billion US dollars in revenue and approximately 2.2 million employees.

Fact 2
A person from Arkansas is called an Arkansan, but it a native from Arkansas can also be called Arkansasan, Arkansasian, Arkie or Arkansawyer.

Fact 3
Little Rock is the state capital and the largest city in Arkansas.

Fact 4
Arkansan Paul Klipsch was the first to realize that horn-type speakers have a richer sound than cone-type speakers and started to sell his Klipsch speakers out of a tin shed in Hope in 1946.
Fact 5
The singer Johnny Cash was born in Kingsland, Arkansas on February 26, 1932. He later moved with his family to Dyess, Arkansas where he lived until he enlisted in the United States Air Force on July 7, 1950.
Fact 6
Fifteen meteorites have been discovered in Arkansas. The first meteorite recovered from a witnessed fall was found in Cabin Creek in 1886 with a weight of 48.5 Kg.
Fact 7
Arkansas is among other names, known as the hot springs state (a related less known nickname is the hot water state). The name refers to the hot springs that can be found in Hot Springs National Park which have 47 hot springs.
Fact 8
The diamond is the official state gem and Arkansas even has a state park (Crater of Diamonds State Park) where ordinary people actually can dig for diamonds. In June 2015, a woman found an 8.52-carat white diamond there.
Fact 9
Arkansas is currently officially known as "The Natural State". The name was created for state tourism advertising in the 1970s. The state has formerly been known as "The Land of Opportunity".
Fact 10
The mockingbird is the official state bird, but Arkansas is not the only state using that bird. The mockingbird is also the state bird of Florida, Texas, Tennessee and Mississippi.
More interesting reads about...
Click here for more u.s. sate facts ❯
RELATED FACTS
---
MORE IN U.S. STATES
---
Short about Arkansas
Arkansas is a state located in the southern region of the United States.

Languages
Deutsch
Français
Español
English

Fast facts
Number of households
1,128,797
Population
2,949,828
Per capita income
$22,007
Life expectancy in number of years
76.0
Statehood
June 15, 1836
Capital
Little Rock
Largest city
Little Rock
Number of billionaires
4
State dance
Square Dance
State beverage
Milk
State bird
Northern mockingbird
State mammal
White-tailed deer
State tree
Loblolly Pine
State flower
Apple blossom